If you are an affiliate blogger or a simple blogger you should know about the Affiliate Booster theme & It's amazing features. As you know the title of this blog is "Affiliate Booster Review", I am going to give an honest review and features of the affiliate booster theme and plugin. You can find Affiliate Booster Review at the end of the blog. (Happy Reviewing)
Let's get started.
Affiliate Booster History
I know we all don't like history. but affiliate booster's history you should know because it will give you the confidence to do affiliate marketing or blogging.
Affiliate booster is built by Kulwant Nagi. He is an Affiliate Marketer. He started blogging in 2011 and today he is one of the best affiliate markets in India.
Here, the story of the affiliate booster started. He faced many issues during his affiliate marketing career. At that time he doesn't have the proper resources to do affiliate marketing.
Then he thought that now I have to do something so new affiliate marketers should have those resources to start their career.
And he started Affiliate Booster. This theme is based on his experience and he is continuously improving this. That's why I loved the affiliate booster theme and Plugin.
Okay but Jeel just because of this reason I am not going to use this. Tell me more about it.
Affiliate Booster Theme Features
Affiliate booster theme have lots of features and layouts.
Schema Optimized
Schema Markup is a Code for a website that helps to optimize your website for search engines. So that Schema optimized theme is important to rank on search engines like Google.
The Good thing is Affiliate Booster theme is Schema Optimized. It is verified by Google rich result test.
Ultra-Fast Loading
In SEO, page load speed has a crucial role. And the survey says the audience stays on-site if the page loads in less than 5 sec.
Affiliate Booster was developed from the ground with page speed in mind. So, you can enjoy your fast-loading blog.
You can see that the page load speed of affiliatebooster.com. It is fully loaded in just 1.3 sec.
Easy Customization
We know that we didn't like by default theme. we want to customize but some themes are complicated.
With Customizer and easy page setting, we can easily customize the website. That's the true easy customization by affiliate booster.
Mobile Responsive
More than 50% audience uses the internet on mobile. Maybe you are reading this blog on your smartphone. So, it is most important for your website to be mobile responsive.
Affiliate booster theme automatically optimizes your website according to device whether it is a laptop or smartphone.
Typography Control
Everyone has different handwriting. So, Why should we stick to default typography for our blog.
Affiliate booster gives you full control over typography. You can change body, paragraph, links, and heading typography with ease.
Colors Control
Not just Black & white. You can control colors you & your audience like. You can change the color of the theme background, content background, and many more.
Top Pick
Affiliate Booster Theme Conclusion
100% Schema Optimized
Google SEO Score = 99
Fast Loading
6 Header Designs
9 Homepage Designs
5 Single Page Designs
100% Responsive
Typography Controls
Color Controls
Elementor Compatible
Affiliate Booster Plugin Features
As we know affiliate booster is built for an affiliate marketer. Affiliate booster plugin gives more power to an affiliate marketer. The Combo of Theme & Plugin is like Supermanblog.
Did you notice I have used a few Affiliate booster plugin's Gutenberg Blocks? It looks amazing, right?
So, tight your seat I am going to demonstrate the Affiliate booster plugin.
Notice Block
Here, you can change typography, color, etc. You can also change content-type: List or Paragraph
Single Product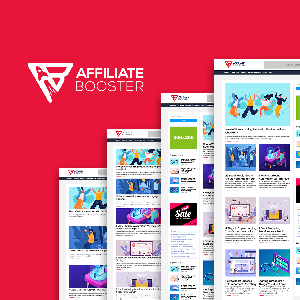 Affiliate Booster Theme & Plugin
Upload Image
Fetch Image from external URL
Control Title, subtitle, content, color, etc.
Special Amazon Settings
Pros
Amazing Layouts
Easy Customization
Attractive Gutenberg Blocks
Different Styles
Much more…..
Icon List
Affiliate Booster Plugin Conclusion
Best for Affiliate Marketer
Hope you understand that this blog has limitations to showcase all the possible Gutenberg Block. But you can see the demo here.
Before you left this blog…
Affiliate Booster Review From Users
Source: TrustPilot
Arun Chakravarty
Kulwant Nagi Ji is a Sachin Tendulkar of Affiliate Marketing.. Affiliate Booster is one of the best themes I have used. I have converted all my websites into affiliate booster themes. I strongly recommend that this is the one-stop solution for all Affiliate Marketers.
He has given a big gift to the digital world. He has made India proud.
Vivek Yadav
I am in digital marketing for 2+ years. I never find this type of product that can help you at an advanced level in website creation. Affiliate Booster plugins give you various options by which you can get hassle-free post creation as well as landing pages.
Shuvo Chowdhury
Affiliate Booster is the best theme for affiliate marketing. I'm using this for 4 months and it really growing my sales. I'm totally satisfied with this theme and thanks Kulwant nagi for made this theme.
Sarthk Aggarwal
This theme is super lightweight and indeed scores a 95+ score in Google Page Insights and GTmetrix. This is just a basic theme for all necessary functions for any affiliate website/blog. The Affiliate Booster Plugin is just a great plugin! I've been using the free version of the plugin since the day it was launched, and it is just great. This theme and plugin are the best for all affiliate websites/bloggers. The theme is also AdSense friendly for generating revenue from Google Ads
Okay, Jeel All the features are great. Also, reviews are awesome. but what about pricing?
Affiliate Booster Theme & Plugin Pricing
Affiliate Booster Theme

Single Site License: $29/year
25 Sites License: $39/year
50 Sites License: $59/year

Affiliate Booster Theme + Plugin

Single Site License: $49/year
25 Sites License: $69/year
50 Sites License: $99/year
Coupon For Affiliate Booster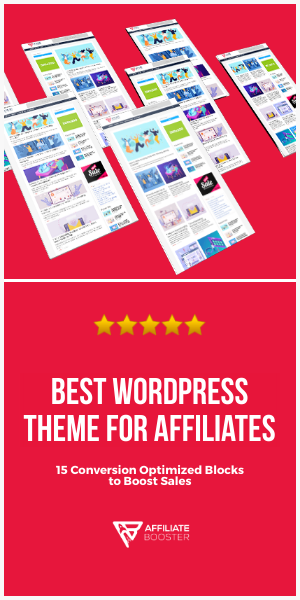 Affiliate Booster Theme & Plugin
Get Active Coupon For Affiliate Booster
Affiliate Booster Review (30+ days of use)
Yes, It has been more than 30 days since I am using Affiliate Booster Theme & Plugin.
And I Loved 😍 it.
I Don't have any words for it because I have already explained the Affiliate booster Theme & Plugin features. If you have still confusion then Try the Free version. You will love it too.
And If you want to buy a theme but you can't afford it. Let me Know.
Okay, Jeel. I understood everything but I don't know how to install and use these.
Tutorials for Affiliate Booster
How to Install Affiliate Booster Theme and Activate License Key
How to Install Affiliate Booster Plugin and Activate License Key
For more Help, you can see the Help Portal
If you have any query comment below.
Happy Marketing!
Verified
Affiliate Booster Theme Installation
I will Install the Affiliate booster theme & plugin on your WordPress website.
Only 5 Left